It is important to have the perfect sample piece before committing to a large production order of your product. Without a golden sample, there is no reference of the ideal unit. This leaves too much room for error and poor quality control once your product is produced on a large scale. Keep reading for three more reasons on why you need to have a golden sample.
Why is a Golden Sample Important?
It shows that your manufacturing partner is aligned with your expectations

You have a vision as to how your product will look, how it will feel, and the impact it will have on the lives of your customers. When you selected a manufacturing partner, they gave you their confidence that they could build your product. When you receive your sample, and particularly one that could be considered as a golden sample, it proves that your manufacturer can execute your vision.

It means that any product revisions are deemed complete

When you receive a pre-production sample, it is necessary to inspect it thoroughly. You need to make sure it is perfect – possibly even better than you imagined. If this is the first time you are receiving a physical sample, you may not be pleased with the product even if it is built to spec. It is important to note any changes or alterations during the sample approval process as it is your last chance to make them before mass production. Major changes will lengthen your overall schedule but the outcome of a better product outweighs the additional time.

Keep your samples organized by signing and dating each unit

You may receive multiple rounds of samples in order to get to the perfect, golden sample. To keep these units organized, you should sign and date the physical sample. When you do this, it eliminates the risk of anyone tampering or altering the sample. In addition, having a date on the physical piece allows you to easily identify which sample is the most recent one from your manufacturer.

It ensures your final product is produced at a high quality

A golden sample is typically hand-crafted with a lot of attention to the fine details. However, with production on a large scale, often times the small details get overlooked. This means that your final product may be slightly less refined than what the golden sample shows (this should not affect the overall function or the look of the product). Unfortunately, this is just the nature of mass production and does not mean that your manufacturer is sub-par in any way. Because of this slight variance during production, it is even more important to ensure your golden sample is as perfect as it can possibly be.
Image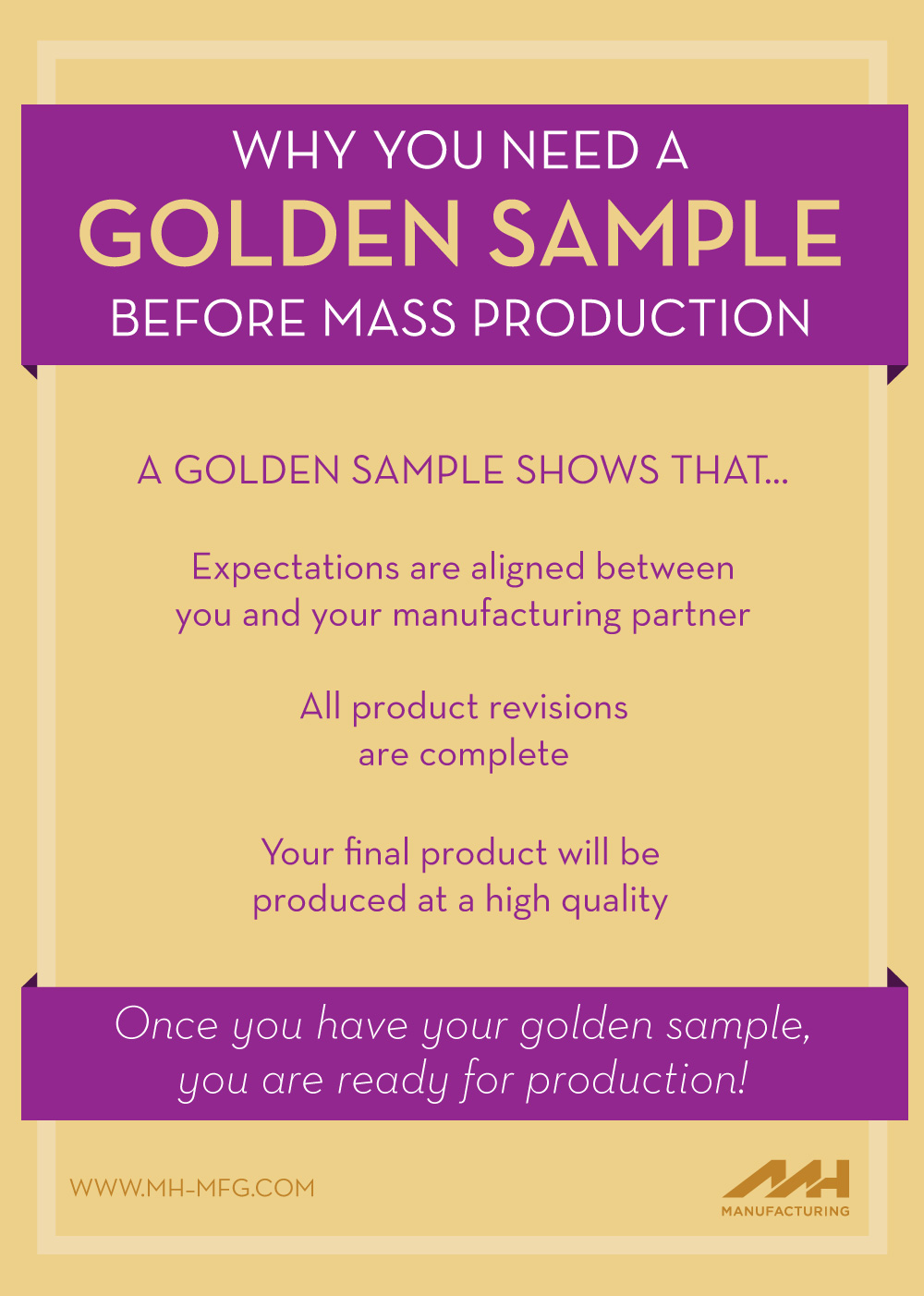 Approving Your Golden Sample
Your approval is vital to your manufacturer. They cannot begin mass production until they have received your golden sample. Once you have inspected your final sample and marked it – including the date – as approved, you will need to return the golden sample back to your manufacturer. This gives them a physical piece to reference during the production phase of your product.
If you need to ship your golden sample internationally, ensure that you package it correctly. You will want to include the appropriate HTS codes and complete all the right paperwork so that your package will pass smoothly through any customs inspections.
Approving a golden sample is a crucial part of the product development process. It confirms that your manufacturer sees your vision, all changes have been finalized, and mass-produced units will pass quality checks. A golden sample is an important step in order to manufacture the best possible version of your product.