The answer lies with an ever-changing landscape of IATA shipping requirements and standards. Expensive week long seminars, overwhelming webinars, and exhaustive 100+ page PDF documents have been constructed to educate logistics personnel of the ins and outs of lithium ion battery safety, qualification and shipping -- which few individuals have the time or resources to pursue. Keep reading for a simplified guide for shipping lithium ion batteries to help give you peace of mind when navigating battery qualification, supply chain planning, and compliance.
Start with the Battery Design
The media has no shortage of stories about lithium ion batteries catching fire, exploding, and even causing severe bodily harm. Traditional wisdom suggests the reasoning behind such potential danger lies with the volatility inherent to lithium batteries themselves. However, the lithium chemistry is, in most cases, not the problem. Instead, problems arise when rechargeable lithium batteries are asked to perform at higher levels than intended by the original lithium ion design.
Each battery manufacturer offers their own design as a unique "mix" of lithium ion chemistry. This recipe can result in performance variations among seemingly similar specifications. Rate of charge, rate of discharge, depth of charge, depth of discharge, operating temperature, and storage temperature are just a few specs to evaluate prior to selecting a solution.
Product development engineers should allocate ample room within their devices to accommodate the required battery capacity (energy). Most battery manufacturers recommend a maximum discharge rating of 1C, which means the battery will deliver its nominal rated capacity in one hour. Therefore, a product requiring up to 2A of energy is recommended to use a lithium battery solution with capacity ≥ 2Ah.
When selecting your lithium ion battery, be certain its specifications can support your power needs. Additionally, product development engineers should finalize overall lithium battery assembly details such as lead wire length, connector selection, protection circuit module components, plastics, etc. to secure an approved design early in the development process.
Leverage your Manufacturing Partner
The battery manufacturer plays an instrumental role in determining your success when shipping lithium batteries. Their ability to control documentation, develop a reliable production schedule, uphold specification integrity, and maintain consistency of supply is of paramount importance for a successful partnership. Selecting an ISO-certified manufacturing partner is a best practice to avoid any unexpected setbacks in your supply chain. ISO approved manufacturers have demonstrated their Quality Management System (QMS) is focused on meeting customer expectations and delivering customer satisfaction.
Lithium battery models are routinely tested by Nationally Recognized Testing Laboratories (NRTL) to determine conformance to fundamental battery safety performance standards. The most common single-cell safety certifications are UL1642 and IEC62133. Reputable battery manufacturers will offer a lineup of pre-certified cell models which is an indication their chemistry mix meets international safety test criterion. On the other hand, caution and discretion should be exercised when engaging with suppliers who lack a portfolio of certified battery models. Battery safety is a means to battery shipping and choosing an established manufacturer is a highly recommended best practice.
Battery manufacturers anticipate their customers will require support when shipping lithium ion batteries and are often setup with the logistics personnel, warehousing capabilities, and preferred carriers/rates in place to simplify the shipping process. Leverage your manufacturing partner's resources. Battery packaging design, compliance documentation preparation, and freight quoting and booking are just a few services which may be offered by your manufacturer. Take advantage of the expertise available to you and be wary of battery manufacturers who lack logistics support - this is an early indicator of more potential problems to come.
Fundamental Battery Shipping Regulations
Lithium ion battery manufacturers rarely carry off-the-shelf stock readily available for purchase because of the inherent nature of lithium to slowly degrade over time. Therefore, supply chain professionals must consider the battery production lead time when evaluating component critical paths.
The industry standard for lithium ion battery capacities coming off the production line is 60% - 90% of the rated capacity depending on the manufacturer. However, the International Air Transport Association (IATA) requires lithium batteries shipping air to maintain a state of charge (SoC) not exceeding 30% of the rated design capacity (UN3480, PI965, Section 1A and 1B).
Manufacturers must be notified at the time of the purchase order placement whether the batteries will need to ship via air to ensure battery capacity is set in accordance with IATA standards. It is resource intensive and can be very costly to adjust battery capacity levels after production is complete. 
All lithium ion batteries should be tested for UN38.3 compliance to document their ability to be safely transported by air or ocean. UN38.3 takes into account the complete battery assembly including PCM, lead wires, and connector and includes testing which covers altitude simulation, thermal performance, vibration, shock, external short circuit, crush, overcharge, forced discharge, and 1.2M drop testing. Conformance to UN38.3 signifies battery safety, provides a means of air transit, and accelerates courier approval.
Image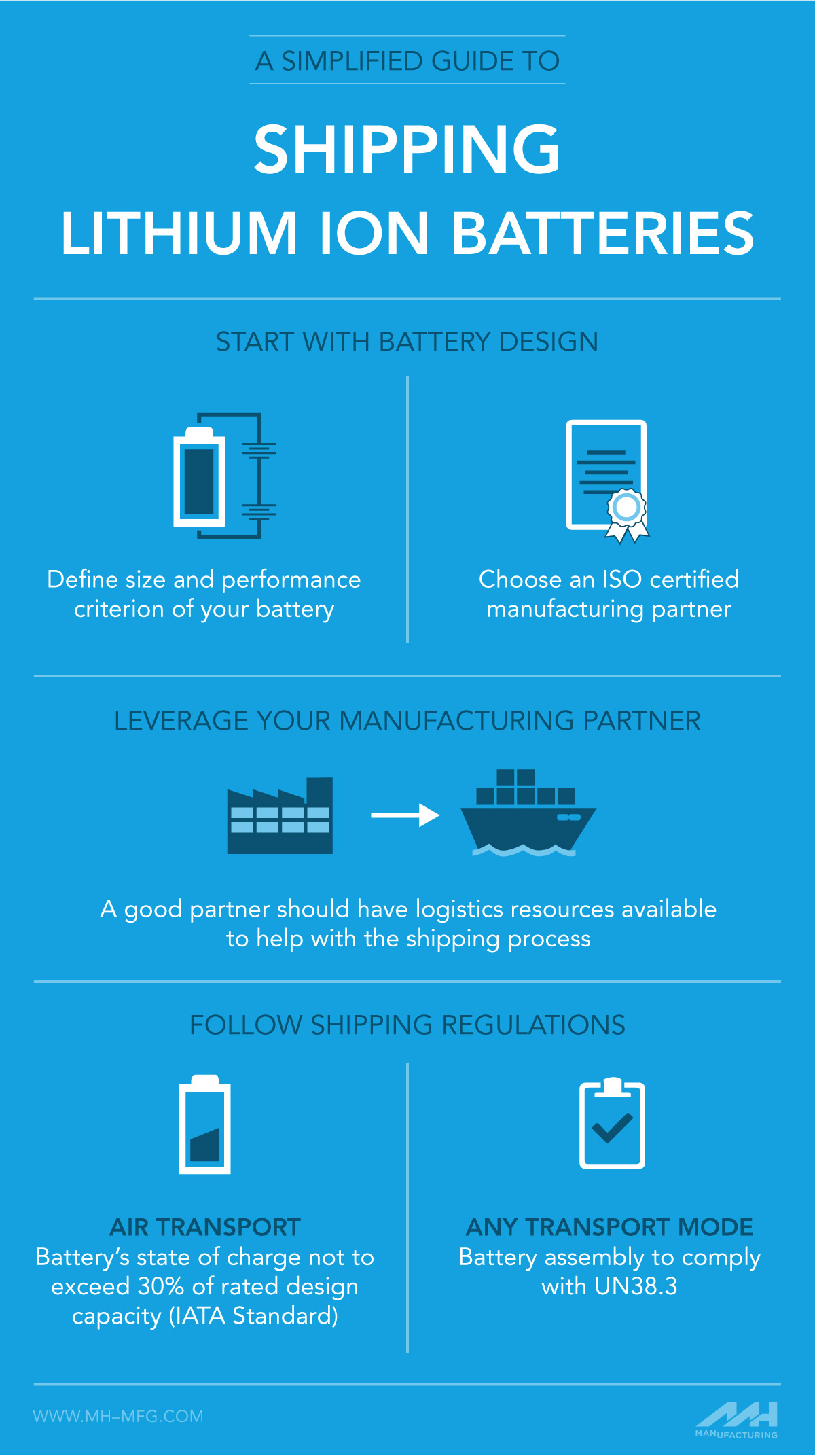 Shipping Lithium Ion Battery Guide
When considering shipping lithium ion batteries, keep in mind the following:
Define the lithium ion battery solution size and performance criterion early in the design process
Choose an ISO manufacturing partner with a lineup of UL and IEC safety-certified lithium ion battery models
Leverage the battery manufacturer's logistics resources
Consider the production lead time and preferred shipping method before placing a purchase order
Certify your lithium ion battery solution to UN38.3
Shipping lithium ion batteries can seem like a daunting process when there are so many regulations to abide by. Start with selecting a reliable, manufacturing partner and planning a realistic production timeline for receiving your lithium batteries. A certified battery manufacturer will ensure your batteries meet the required safety regulations and can assist in properly shipping them. With a realistic production timeline, you can select the best method for shipping your lithium ion batteries and prepare them accordingly in advance. Keep these guidelines in mind as you start to navigate battery qualification, supply chain planning, and compliance for shipping lithium ion batteries.